CROSSCOUNTRY4JESUS' HOMEPAGE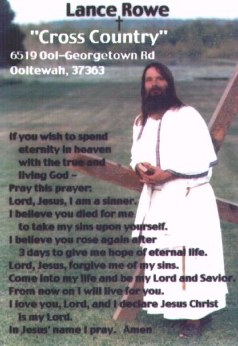 Welcome to the CROSSCOUNTRY4JESUS' HOMEPAGE web site.
Thank you for visiting my site.
My name is Lance Rowe, but the only name that really matters is the name of JESUS CHRIST!
In 1996, the Lord put it on my heart to carry a cross across the United States, from Florida to California. When I mentioned it to Michelle, my wife of 16 years, she was very supportive of the idea. So we left Crystal River in August of 1996 headed into adventures we couldn't imagine at the time.
We had 4 children then,
but on Sept. 4, 1998, the Lord blessed us with our 5th.
Noah Moshe
was born in our motorhome in the parking lot of Bethel Temple Full Gospel Fellowship in Port Arthur, Texas! Believe it or not, we weighed him on the check-out scale of K-Mart!
Then on January 6th, 2001, Abigail May was born in our motorhorme in Crystal River, Florida, at John and Margie Sipe's home. Is our quiver full? Only the Lord knows that answer...but I guarantee you our Motor home sure is full!
WHAT IS CROSS COUNTRY MINISTRIES?
TThe scope of our ministry is to operate in a visual form of evangelism, as I carry a ten foot cross through every town along highway 90.
In the course of this ministry, the Lord has given me the opportunity to train up brothers and sisters in the areas of evangelism and living by faith.
I have been blessed with the opportunity to establish a ministry in Lafourche Parish, Louisiana, called "My Brother's Keeper"; an interracial, interdenominational group of brothers and sisters in the Lord who have a desire to take their cities for Jesus.
Ours is a simple ministry:
TO ENCOURAGE THOSE WHO SIMPLY WANT TO MINISTER.
The purpose of this website is to equip and to encourage fellow Christians to do the work of the ministry.
I intend to include periodic updates as to what's happening "CROSSCOUNTRY" as well as encouraging news as to the harvest in the areas where I happen to be.
But this site isn't just about me...
I'll be introducing you to other brothers and sisters in the Lord, who have similar ministries to mine.
Plus, there are Bible studies and ideas for outreaches. I hope you enjoy what you find here.
May God richly bless you as you explore these pages.