CROSSCOUNTRY4JESUS' HOMEPAGE
|
home

EASTER 2002 REMEMBERING OUR LORD'S EXPRESSION OF LOVE FOR HIS CREATION
DIAMOND, LA. MARCH 30, 2002

oN sATURDAY, MARCH 30, THREE PASTORS, BROTHER FRANCIS LOVELL OF "MY BROTHER'S KEEPER" MINISTRY IN HOUMA, SOME PRECIOUS BROTHERS AND SISTERS FROM THE AREA, AND MY FAMILY AND i GOT TOGETHER TO REENACT THE CRUCIFIXION OF OUR LORD DOWN THE MAIN STREET OF DIAMOND. THE PRODUCTION WAS UNANNOUNCED, SO IT TOOK THE RESIDENTS OF DIAMOND BY SURPRISE.

a BROTHER (HAROLD) FROM THE CITY PRICE BAPTIST CHURCH PORTRAYED JESUS. aT ONE POINT, AS WE WALKED BY THE DIAMOND COMMUNITY CENTER, THE BASEBALL GAME CAME TO A HALT AS THE PLAYERS ALL TURNED AROUND AND STARED AT US IN SHOCKED DISBELIEF.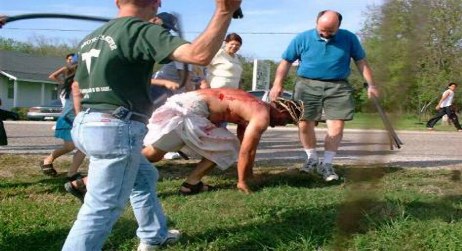 FRANCIS' BROTHER'S KEEPER SHIRT DIDN'T REALLY FIT THE SITUATION..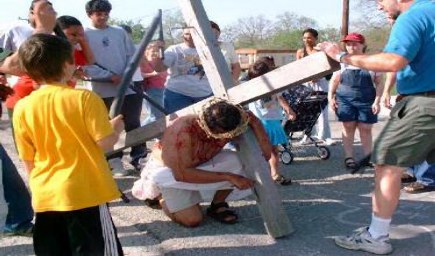 THE CROWD GATHERED ROUND TO MOCK JESUS AS HE FELL TO THE GROUND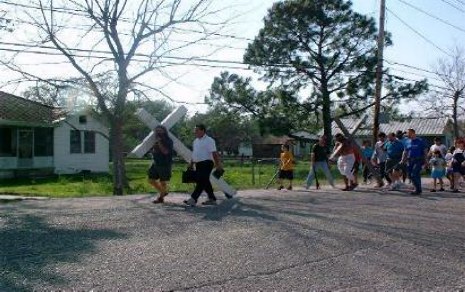 PASTOR BUD OF RIVER OF LIFE CHURCH AND I WALKED AHEAD OF THE CROWD WITH MY SOUND-SYSTEM CROSS, AND ANNOUNCED TO THE NEIGHBORHOOD OUR INTENTIONS OF REENACTING THE CRUCIFIXION. NATURALLY, I GOT TO PREACH A LITTLE AS WELL!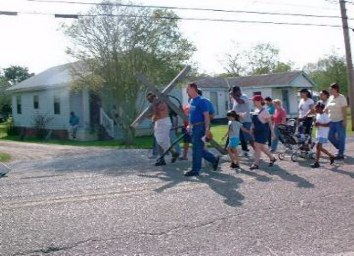 PEOPLE CAME OUT OF THEIR HOUSES AND WATCHED AS OUR PROCESSION WALKED DOWN THE MAIN STREET OF DIAMOND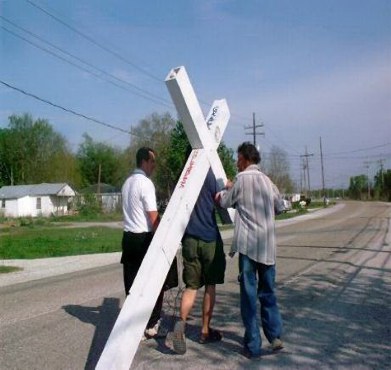 GEORGE WAS A PASSERBY, IN THE GRIP OF ALCOHOL, WHO SAW US, AND WAS DEFINATELY BEING DRAWN TO THE LORD.AT THIS POINT, HE WAS UNAWARE OF THE "JESUS" BEHIND US, AND HE WAS ASKING ME TO STOP SO HE COULD TALK TO ME. i TOLD HIM i COULDN'T BECAUSE OF THE PROCESSION BEHIND US. wHEN HE SAW WHAT WAS GOING ON BEHIND US, HE LEFT US, AND TRIED IN MANY WAYS TO ASSIST "jESUS." AT ONE POINT, FRANCIS HAD TO REACH OUT AND TELL GEORGE THAT WE WEREN'T REALLY HURTING HAROLD! "IT'S JUST A PLAY, MAN!" HE SAID.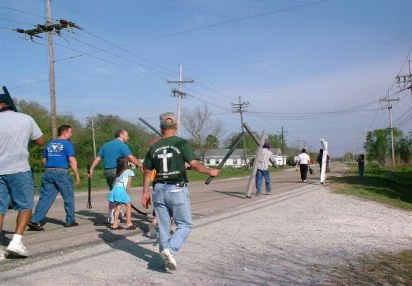 WE HAD BEEN WANTING A "SIMON" TO HELP JESUS CARRY THE CROSS, BUT WE COULDN'T GET ONE AT SUCH A SHORT NOTICE...THEN ALONG CAME GEORGE...WE DIDN'T HAVE TO ASK HIM...HE JUST TOOK THE CROSS TO RELIEVE "jESUS", AND SAID, "o.K., MY BROTHER, LET'S GO!"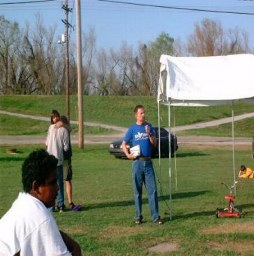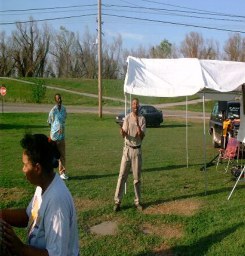 PASTOR MIKE COX OF WHITE DOVE FELLOWSHIP ASSOCIATE PASTOR ELROY MACKEY OF
PORT SULPHUR, LA. (george is crying out RIVER OF LIFE, DIAMOND, LA.
to jesus to save his soul)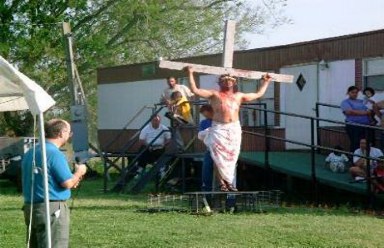 PASTOR LEE OF CITY PRICE BAPTIST CHURCH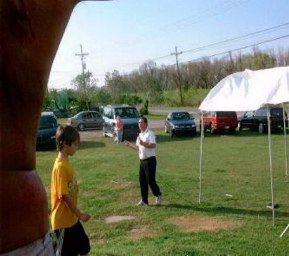 pastor bud of river of life church
each of the pastors are convinced that next year this should be done as well...and that there will be quite a crowd next year...i can't wait for the report!
thank you, jesus!
next paGE:
CURRENT EVENTS, THE HOLY SPIRIT AND YOU