CROSSCOUNTRY4JESUS' HOMEPAGE
|
home

SEEING IS BELIEVING

YOU CAN VIEW THESE PICTURES AT http://www.lds.org/temples/nauvoo/construction/0,10607,1617-1,00.html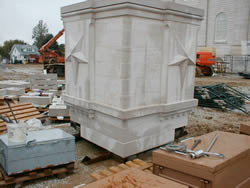 THE INVERTED FIVE POINTED STAR IS A COMMON SYMBOL USED BY SATANISTS IN THEIR WORSHIP, AND ALSO BY MASONS.
Amos 5:25-27
25 Have ye offered unto me sacrifices and offerings in the wilderness forty years, O house of Israel?
26 But ye have borne the tabernacle of your Moloch and Chiun your images, the star of your god, which ye made to yourselves.
27 Therefore will I cause you to go into captivity beyond Damascus, saith the LORD, whose name is The God of hosts.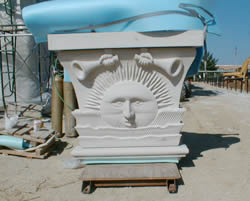 THIS STONE IS SITUATED ON THE TOP OF THE TEMPLE IN NAUVOO.
Ezek 8:16-18
16 And he brought me into the inner court of the LORD's house, and, behold, at the door of the temple of the LORD, between the porch and the altar, were about five and twenty men, with their backs toward the temple of the LORD, and their faces toward the east; and they worshipped the sun toward the east.
17 Then he said unto me, Hast thou seen this, O son of man? Is it a light thing to the house of Judah that they commit the abominations which they commit here? for they have filled the land with violence, and have returned to provoke me to anger: and, lo, they put the branch to their nose.
18 Therefore will I also deal in fury: mine eye shall not spare, neither will I have pity: and though they cry in mine ears with a loud voice, yet will I not hear them.
CLICK ARROW TO GO TO THE NEXT PAGE...A COMPARISON BETWEEN MORMONISM AND ISLAM