CROSSCOUNTRY4JESUS' HOMEPAGE
|
home


CHAMBERLIN FAMILY NEWSLETTERS

The Mission Field, U.S.A,
Reaching the lost for Christ
Brian & Mary Chamberlin & Family Vol. 3 - Issue 3
c/o 11201 Melanie Ln. March - August, 2001
Georgetown, TN 37336
**Please note, items with a [ ]around either side are passages of scriptures from the King James Version of the Holy Bible.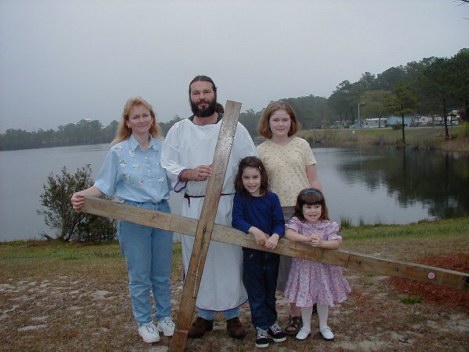 Greetings in the Name of our Lord Jesus Christ, from the Chamberlins and the Mission Field. Praise God! It has been an exciting year serving our Lord. These past few months have been so busy we are once again behind on our newsletter.
As of our last letter to you, we shared that we were leaving New Orleans. We traveled across north Florida, and into Georgia, on our way to South Carolina. While in Georgia, we received a call that Mary's (my wife) sister's husband, George, had suddenly passed away. We knew we should go to St. Louis for the funeral but couldn't pull our camper and trailer and everything. God had it all planned.
Before we received the call, I was headed to Vidalia, GA to carry the cross. I also wanted to find a pastor that I had met a year earlier, who I knew to be in the area. As I came into town, I told Mary that I needed to go to a pharmacy to get some medicated lip balm. We drove through town and I spotted a pharmacy. I went in, got what I needed and as I was checking out I asked the young lady at the register if she knew where such and such street was.
She told me she did and then asked, "Are you looking for a church?" I said, "Yes". She said, "That's my father's church!" Praise GOD! Only minutes after leaving the store, we got the call about George passing away. Pastor Rusty Houser & Sister Tina, and the whole church blessed us in being able to leave our camper with them at El Shaddai Christian Fellowship, while we drove to St. Louis.
I was honored to be able to minister a message of hope, healing & salvation at the funeral. Please continue to pray for George's family (wife Rebekah and 7 year old son Joshua). I want to THANK Pastor Rusty, Sister Tina, their precious daughters and the church family for the love of Christ that was poured out on us. God bless you all!
Upon returning from St. Louis, we stayed in Vidalia, GA for a few days. During that time Pastor Rusty and I carried crosses through the city. It was a glorious time of ministering together, praying for people, laying hands on the sick and lame and seeing salvations come.
[Acts 5:12 And by the hands of the apostles were many signs and wonders wrought among the people; (and they were all with one accord in Solomon's porch.]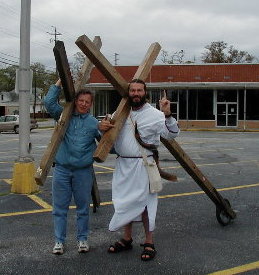 Heading on into South Carolina, we were blessed to stay with my family. The Lord used us to recharge the spiritual fire in alot of people we had met while carrying the cross the year before. We also were blessed to attend an Evangel Fellowship International Minister's conference We had a refreshing time in the Word, recharged our own batteries, saw people we had met the year before and met new brothers and sisters in Christ.
April 6th: Arrived in Garner, NC at Victory Fellowship where Pastor Mitch Horton and the body of Christ met us with open arms and the love of Jesus. We spent two wonderful weeks preaching, teaching Evangelism and taking it to the streets. There was a tremendous turnout for both the classroom teaching and the hands-on outreaches. Praise Jesus ! One afternoon, we handed out free water and icepops in Garner and Raleigh, took a group to the city parks, carried the cross and did team witnessing
[Mark 6:7 And he called unto him the twelve, and began to send them forth by two and two; ...]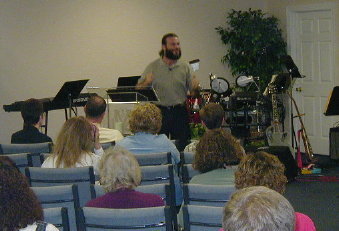 We participated in NC Cross Walk 2001 (a parade through Raleigh & Garner, carrying crosses and banners) organized by Chris Credle. Glory to God for your boldness Chris! We carried the cross around the capitol building praying and sounding the shofar on all sides. During ministry times, we saw lame arms and a lame neck healed in Jesus Name! In the streets, the Word of God was going out, salvations coming and several people with oppression set free in Jesus Name, and started dancing and rejoicing in the streets. To God be all glory for every testimony. I want to thank Pastor Mitch & Susan Horton, Victory Fellowship family for their zeal and boldness for Jesus and for the love of Christ that was poured out on us. God bless you all. I also was honored to have preached in a North Carolina prison. We had several men to come forward for deliverance of bondages. Praise the Lord. I thank you Brother Don Chase and the Prison ministry team for the opportunity to go and serve. GLORY!!
Leaving Garner, NC, we headed southwest stopping in Saluda, SC. We were invited to come to Saluda by Pastor Michael Shull to teach evangelism. We received a warm welcome there. Praise God. During the next couple of weeks there we had a great turnout of brothers and sisters wanting to know how to more effectively share their testimonies, to be bold witnesses for Christ Jesus, to learn cult awareness and many other tools we use for the equipping of the saints.
[Matt 28:19-20 Go ye therefore, and teach all nations, baptizing them in the name of the Father, and of the Son, and of the Holy Ghost: Teaching them to observe all things whatsoever I have commanded you: and, lo, I am with you alway, even unto the end of the world. Amen.]
During our time there, we organized some small outreaches in the community, took teams and walked different sections of town, sharing Jesus with all those we encountered. On one occasion, we came upon over half a dozen young men who were being brain washed by the Black Muslim & Farakan teaching of hate and racism! This is a very small town! People we need to wake up to what is going on in the streets of America! The Muslims, Mormons, Jehovah's Witnesses, Rosicrusianism, Rainbow People, Christian Science, Krishna's, the Brethren, Buddhism, and hundreds of others trying to steal the youth (and all who will listen) of America and to pollute the Name of our Lord Jesus Christ.
[Gal 1:6-8 I marvel that ye are so soon removed from him that called you into the grace of Christ unto another gospel:
7 Which is not another; but there be some that trouble you, and would pervert the gospel of Christ.
8 But though we, or an angel from heaven, preach any other gospel unto you than that which we have preached unto you, let him be accursed.]
One day there were 20 people that came to hit the streets for Jesus! We saw salvations and taught people the truth of who Jesus is. We also refuted several false doctrines, Praise God. As I was carrying the cross in town, a lady came running after me, calling out. She had been in the beauty shop having her hair permed, and it was only half curled! She had many questions about Jesus, and the Holy Spirit. I spent some time with her, and invited her and her husband to come to the church where we were parked to talk with the Pastor and me. The Lord gave them much insight.
I was blessed to be invited to be one of the speakers at the City Court House on the occasion of the National Day of Prayer.
The following is a Word from the Lord that I preached Thursday, May 3, 2001, and it is just as vital today:
National Day of Prayer
[Isaiah 45:22 - Look unto me and be ye saved, all the ends of the earth: for I AM God and there is none else. ]
I submit to you today that we have forgotten, overlooked, even set aside the fact that there is only one God.
Look throughout this nation and see that Christians and heathens alike are embracing false gods, false religions and false teachings. We welcome all the eastern philosophies and mysticism's that teach of another way or another god. WE are building idols and bowing before them.
We are sitting back as witchcraft is brought into our schools and the Bible taken out, as the Ten Commandments are removed from our courthouses and public prayer is shunned. We accept pornography being broadcast into our homes but tremble at the thought of telling someone about Jesus.
[Isaiah 5:20 "Woe to those who call evil good and good evil; Who put darkness for light and light for darkness; who put bitter for sweet and sweet for bitter!" ]
What of other nations who have served false gods? Where are THEY now? Are they even known? Where are the false deities before whom the people of Nineveh bowed? Where are the gods of Persia? Where are the gods of Greece? Where are they? They are gone! They are passed away and they are forgotten. Where are the gods of Rome, China, and Polynesia? They are cast down from their thrones, their glories are departed; God has gotten to himself the victory over false gods and taught their worshippers that He is God and that besides him there is none else.
Where are the men who have set themselves as rulers, Kings, and leaders equal to God?
And we must not forget that there are some special servants of God, raised up to do great works, who in a peculiar manner, have to learn this lesson. For instance, if a man be called to the great work of preaching the Gospel. He is successful, God helped him. Thousands wait at his feet and multitudes hang upon the words of his lips. As truly as man is a man, he will have a tendency to be exalted above measure. Too often, he will begin to look to himself and too little to his God.
We, too often forget that He is God and besides Him there is none else.
There is only one Potentate, one Worshipful Master, one King, and the dynasties and thrones of the earth will be trampled under His foot.
[GOD says: "Look unto me, and be ye saved, all the ends of the earth: for I AM God, and there is none else." Isaiah 45:22]
And , ["If my people, which are called by my name, shall humble themselves, and pray, and seek my face, and turn from their wicked ways; then will I hear from heaven, and will forgive their sin, and will heal their land." 2 Chronicles 7:14]
Later that week, we carried banners and the cross in a Logger Parade while the Youth Pastor, Christian and his wife Karen and the youth group gave out free water and sodas. Afterward, the youth set up a booth at the festival to pass out more free drinks. It was sweltering but always a great day to lift up the Name of Jesus! Thanks to Pastor Michael & Sister Wanda and all of the family at New Life Ministries. God Bless you! As we started to leave, I couldn't get the camper jacks to move. After replacing a switch and tracing electrical wires, which took half a day, I found a hidden fuse that had blown. Praise the Lord.
We slowly started west stopping in Cleveland, TN. It is always a blessing to stop in to our home church for a visit. There always seems to be an opportunity to minister, witness, counsel or just share the love of Jesus. I thank my Pastor Larry Cockerham and Sister LaVonna, and our family at Living Word Fellowship for the love they pour into us. We are so thankful for the encouragement, prayer and blessings they are to us. Everyday in the mission field is not a rose, but we choose not to dwell there, instead to push through to the higher calling of the Lord Jesus Christ! GLORY!!
While in TN, we carried the cross and shared the Gospel in Athens, TN. One afternoon there, as I was putting my cross on the truck to leave, a young man rode past me on his bicycle. I took off my robe, then walked over to where he had parked his bike. He told me that he didn't know why he had ridden the 10 miles that he did that day. I told him that I believed I knew. He had so many questions about the thing s of the Lord. So, I gave him a ride home and we talked all the way there. The Lord gave him hope and answers. He didn't ask Jesus into his heart, and I didn't push him. I told him that it was his decision. The Lord would receive him gladly. Hallelujah!
We were blessed to come and share a message of encouragement and challenge with our brothers and sisters at Restoration Fellowship. Thank You Pastor Johnny Hope and Sister Carol, and all the family of believers. Keep that Evangelistic heart pumping the life giving blood of Jesus. I hope we can to do more work together for the Kingdom of God.
Coming into June, I carried the cross in Cleveland, TN. On June 2nd, it was a blessing to hold a "Stand For Jesus". People from 5 different churches took banners, signs, or crosses and stood at different intersections throughout the city for 2 hours, praying, witnessing, and handing out tracts to lift up the Name of Jesus! It was a fun day. Brothers and Sisters, I am telling you that sharing the love of Jesus Christ, open-air preaching, handing out tracts and being radical for Christ is a BLAST!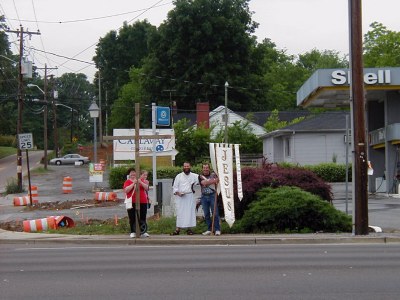 On June 6th, I was honored to come and share the Word of the Lord at Living Word Fellowship. His word is so powerful and full of Life.
Brother Gary Shuler and I took our crosses to preach the Gospel at the drunken River Bend street party in Chattanooga, TN. We sowed alot of seed and prayed with many people as the Spirit of God moved on those being drawn to himself. Its a blessing to see Brother Gary and his beautiful family growing in the Lord and in the desires of the Lord. We love you Gary, Kim, Jessica and Hunter! I spent a couple of different nights at River Bend's street party with my cross. I saw alot of good fruit, and noticed more Christians there witnessing than ever before. Praise GOD! Change our hearts more, O Lord!
Leaving Tennessee, we headed northeast. We stopped in Virginia and I carried the cross in Christiansburg, VA. It was special day of prayer and alot of interesting looks from, but no one took the time to stop and talk. The cross preaches whether I do or not! Moving on into southern New York, after 3-4 days of continuous rain, I was able to walk the cross in Newark Valley, NY.
Newark Valley is the town where I grew up and went to school. It was a wonderful day, alot of people talking about the "guy with the cross." Some stopped. One young man told me that he didn't believe there was a God. After sharing with him for about 45 minutes, I could see his heart had changed. He didn't invite Jesus into his heart, but I believe some precious seed was sewn. Praise JESUS!
[1 Cor 3:7 So then neither is he that planteth any thing, neither he that watereth; but God that giveth the increase.]
Going further north: Waterloo, NY. I ministered to a group of 8 teens in the streets, who have no fear, respect, or idea of God. They are more concerned with pleasing the world and friends, openly mocking God! [Luke 13:3 I tell you, Nay: but, except ye repent, ye shall all likewise perish.]
Pray For America.
Later I met three boys about 12 years old who love Jesus. I gave them a tract. While I was talking to another couple, the boys laid under a ramp they had built to jump their bikes on taking turns reading the tract to each other. It was so precious my heart melted to see these young men. I spent quite a while discipling and sharing the Word. Thank You JESUS!! As I was leaving I asked the young men if I could try their ramp? They laughed and said, "Sure". In my white robe and sandals, pulling the cross, I ran down the sidewalk, hit the ramp and bounded off the end. The boys rolled in the grass at this sight. (A true KODAK moment).
Before heading to the Mormon festival, I was blessed to preach the Word at Agape Bible Church with Pastor Mike Corriero and all of our brothers and sisters there. It was a wonderful move of God, seeing backs healed, bondages broken, and the gifts of the Spirit moving. The Book of Acts is for today! Hallelujah! ONLY BELIEVE! All things are possible!
Thank you Zion Fellowship, Pastor Chris Wood, Val, Theresa, Jeff, Cookie and all of the body of Christ for welcoming us as we ministered in the area. As we crashed the Mormon Pageant, I walked the cross in 5 surrounding cities. One day Brother John went with me to the town of Phelps. What a wonderful time. We shared with some 40 people. The Lord's kingdom increased with 4 salvations. The enemy came wearing a Police uniform telling me if I touch any kids, he would make a mess of me right on the street. I told him, "Repent and accept Christ, for Jesus is the only One who can break your hard heart."
One night at the Mormon Pageant two teenage boys were already inside the play when they looked out and saw the cross. They came out of the play to talk and for an hour I shared to Gospel of Jesus with them. They prayed to receive Jesus! GLORY!! Jesus said, ["And I, if I be lifted up from the earth, will draw all men unto me." John 12:32]
It was an awesome week, with many salvations including one Muslim man, and hundreds of seeds sewn.
Lyons, NY: A festival called Peppermint Days. Pat & Marie Mahoney and family, each year set up a booth there to minister to kids, teens, all ages. They do an awesome job of sharing the Gospel in face painting, music, one on one witnessing, or however the Lords leads them. I stood the cross in the middle of the festival grounds and had a steady flow of people stopping to talk. That night, three people asked Jesus into their hearts, one deliverance, and preached to a tarot card reader. Jesus Rules! The area newspaper did an article on me earlier, and through that many folks stopped and asked questions. As one man was walking toward me, the Lord quickened me. I said, "Sir, God can set you free from alcohol." He asked how I knew. He was on his way to get a drink. After a time of ministering to him, he received Jesus and the Lord delivered him from alcohol right there. GLORY TO GOD!
We've covered some 15 cities in New York. PLEASE PRAY! This is a very spiritually hard and dry place, but I believe God wants to move mightily.
End of July: I crashed the Grass Roots festival (Woodstock type party) As I stood at the entrance to the grounds where this was being held, the Lord drew several who were genuinely seeking the truth. I had a chance to preach to a crowd while they waited for a shuttle bus. One girl being used of the Lord would ask sincere questions and I would answer. Then her boyfriend yells mockingly, "You don't believe there were dinosaurs!" I replied, "Sir, you don't know what you're talking about." The crowds ear was being drawn. I opened the Word of God, the Holy Bible, to the book of Job, chapters 40 & 41 and preached about Behemoth and Leviathan. Many in the crowd were in awe that the Bible spoke of such things. I thank you Lord for Your Word, that it does not return to you void! Glory!
August started out with a group camping trip. Thirty-one all together. We enjoyed much needed time of fellowshipping, and to be Dad & Mom. We caught 2 1/2 gallons of crawfish in a nearby creek and cooked them Cajun style. They were good, yeah. It was first for most of the folks, but all enjoyed them. We had fun sitting around the fire singing and sharing. We challenged one another with scripture reading and memorization. Sunday morning, the Lord quickened me to take my "preaching stool" into the open field, and preach a salvation message. As I was preaching, our group came and sat to listen. Other campers were standing at their sites listening. Then we had all of the kids (and adults followed) to stand on the box and quote a scripture or more. It was a blessing to see the young being bold for Jesus!! (The Birthing of Preachers)
I closed the service with a teaching on water baptism. Then we went to the Chenango River where I was blessed to baptize 5 Children of God. Charlie, 50+; Jesse, 11; Stephen, 10; Alexander, 7; and Hannah, 5.
[Matt 28:19 Go ye therefore, and teach all nations, baptizing them in the name of the Father, and of the Son, and of the Holy Ghost:]
Wednesday, August 15th 2001. I was blessed to perform a wedding ceremony to join together (my uncle and aunt) Robert Perry and Arlene Chamberlin together in Holy Matrimony. Praise God! It was wonderful. I started by reading the 3rd chapter of the book of John and explained the new birth.
CONGRATULATIONS Mr. & Mrs. Perry.
Later, my uncle said he was interested in learning more about the new birth. I invited him to come him to come to Bethel Fellowship Church where I was preaching that Sunday. After preaching on "Who Is Christ In Your Life?" my uncle and another lady responded to the invitation to receive Jesus as Lord and Saviour. God is so awesome! He is a Holy God, looking for all men to come to Him....that we may all REJOICE!! Thank you Pastor Dwayne Followell and the body of Christ at Bethel Fellowship for your love, your prayers and the opportunity to share the things of God.
Well, these are just some of what God has been doing in and and though us.
Please keep us in your prayers and thoughts as we go where God leads. Remember, Jesus is the Light of the world and if he dwells within us, that same light should shine from us.
We love you all. May God bless you and keep you and draw you closer to Him. May the Prince of Peace be with you always,
Love,
Brian & Mary, Lora, Hannah & Cala Chamberlin
Many people ask us how to reach us. The two ways are by mail or e-mail. Our dear sister sends mail to us faithfully where ever we are. THANK YOU SUE!!
Brian Chamberlin
c/o 11201 Melanie Lane
Georgetown, TN 37336
Our e-mail address is:
PLEASE PRAY WITH US FOR THE FOLLOWING:
Healing from God for:
ROXANNE HUTCHISON (cancer x2) CAROL HOPE (cancer)
ABIGAIL ARRINGTON (brain) CRYSTAL ARNOLD (multiple)
JOHN WAYNE NEILL (amputation MARY SHERIDAN (heart/head)
CHUCK SHERIDAN (broken neck) HAROLD RICHMOND (prostate)
RON RICHMOND (lungs) BO BLAIR (heart)2 heart stints 9/4/01
DON FARR (back) LUIS DIAZ (head)
RUBY CRABTREE (eyes)
And for comfort for:
REBEKAH & JOSH MORTON
ROBBIE WILLIS
DOUG WISEMAN & CHILDREN
FAMILY OF MARTHA SHORE
Also pray God's will:
I have a desire to go to Africa for a mission trip that will be coming up very quickly.
____________________________________________________________________________________________
"The fruit of the righteous is a tree of life; and he that winneth souls is wise"
Prov. 11:30
"Let everything that hath breath praise the Lord. PRAISE YE THE LORD."
<>< Psalms 150:6